Combine the best ideas from each team member into a response that tells your story most effectively.
Instantly create a secure proposal project on the Internet.

'Post'

documents as they are created for review and edit.

'Check Out' documents to maintain exclusive update control.
'Release' documents for others to update.

Assign tasks and route for approvals.




Deliver and distribute your final proposal in a restricted folder.
Collectively build outstanding proposals.
Many proposals require contributions from team members in other locations, such as corporate headquarters, plants and sub-contractors. Use eBidTeam to bring your team together virtually on the Internet. Securely and easily share documents and manage revisions.
Sign up now!
Create an eBidTeam account in minutes
and bring your entire proposal team together.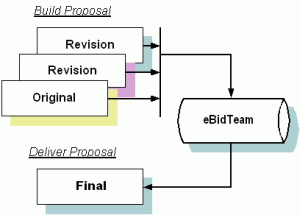 Built for fast, flexible and intuitive operation, eBidTeam allows you to customize each project to fit the circumstances.

Easily add or rename directories and folders.




Restrict folders to specific project groups.




Know for certain that you are retrieving the most current version.

Retain all revisions automatically for reference or fallback.

Easily upload and download multiple documents at one time.

Maintain document integrity with lock and release control.



Avoid common attachment, firewall and spam filter issues of email.

eBidTeam Supports Your Process